The veil of fog lifted just in time for the start of the Sydney Harbour Regatta (SHR) this morning, with racing due to start from 11am on the eight course areas from the Harbour Bridge to Manly on Sydney Harbour.
A 3-knot breeze meant racing on the IRC Open and Super 50 offshore course was delayed. The AP came down and the Warning Signal replaced it at 11.40am in the Middle Harbour Yacht Club (MHYC) hosted event, now in its 17th year.
IRC Open
Three windward/leeward races sorted out who was best in light airs offshore. Nine Dragons, with MHYC's Bob Cox at the helm, came out fighting and ended the day with a pair of second places and a win to be one point ahead of Keiran Mulcahy's Soozal, which scored 1-3-2 results. Mark Hellyer's Cicero is a further four points adrift in third place.
Super 50
The Super 50 class, comprised solely of TP52s, using the SHR for the opener of a brand-new TP52 series. They sailed on the same offshore windward/leeward course area as the IRC Open fleet with longer beat. Just who will win this inaugural series remains to be seen, but today, the relatively unknown Matador (David Doherty) was teaching the masters a lesson.
Doherty tipped the scales in his favour with a third and a pair of wins to lead Gordon Ketelbey's Zen by two points. Matt Donald/Chris Townsend's Gweilo is a further point away in third.
James Corrie, mainsail trimmer on Matador, explained this afternoon: "We've been working on things for a little while now and a couple of combinations are coming together and working out well for us. Everything is starting to gel.
"The racing was close between all of us. The new TP52 series is our focus. David bought the boat from Geoff Boettcher (former Secret Mens Business) 12 months ago. This is his second season in the boat," he said of Doherty who is new to the grand prix racing scene.
Super 40
Revolver (Michael Ritchie), arriving here on the back of second place at the Pittwater Regatta, won both races from Little Nico (Adrian Walters). "We had a pretty good day. We're really happy with that. The boat was launched five years ago and it's taken us that long to get it working the way we want it.
"I think the light conditions suited us. We put ourselves in the right place on the course and our downwind speed helped us, we were able to sail deeper downwind. We were able to hang on upwind, which surprised me, as all the others have square top mains, we have the conventional rig."
Super 30
The Super 30 class boasts a large and fast fleet of 20 'all-sorts' and shared a race area on the northern section of the Harbour with the Super 40s. Super 30s contested two windward-leeward races followed by a short passage race. Brian Tavener's Ophir came off best in Race 1, with Guy Irwin's Clewless? charging home for second, just 21 seconds separating the pair. Tavener reversed the results in Race 2, just 17 seconds between them when the handicaps were applied
It came down to the passage race, which not unexpectedly, changed the shape of the results. The race was won by Peter Woodhead's XC3SS, which has taken the series lead from Ophir. Clewless? has dropped out of the picture for now after finishing 18th in Race 3.
J/70
New NSW J/70 champion, Reg Lord (Juno), came out firing in the light airs on Sydney Harbour, with a trio of wins, proving he is the one to beat. Andrew Tompson's Jabberwocky scored 3-2-2 results to claim second place, with three races remaining. Tim Ryan and his Vamos finished second at the NSW Championship, but could not get up enough steam today and is sitting in fourth place.
Adams 10
The Adams 10s raced on the same windward/leeward courses as the J/70s in North Harbour. This class is always a battle to the last. Tracy Richardson's Artemis finished at the top of the pile after three races. She leads Brian Lees (Contentious), but the two are on equal points.
The lone female in the class here, Richardson only took up sailing seven years ago: "We are excited and pleasantly surprised to be where we are. It's very close racing, very competitive, but we've trained hard and worked to get the boat up to scratch," she said.
Yngling NSW Championship
Gary Pearce and his Black Adder crew put the rest on notice on the first day of the Yngling NSW Championship. They ended the day with 1-2-1 results. Gary Wogas is in second place with Karma, after scoring 3-1-2 results. Jan Newland's Yertl is in third place after finishing 2-3-3. This Championship is likely to come down to the wire.
"I've been sailing Black Adder for about 10 years," Pearce said. "The last couple of seasons we've been working towards this. Unfortunately, Hamish Jarrett (Miss Pibb, the gun boat of the fleet) couldn't make it this weekend, so we can't prove how our performance has improved. We were very pleased with the day though.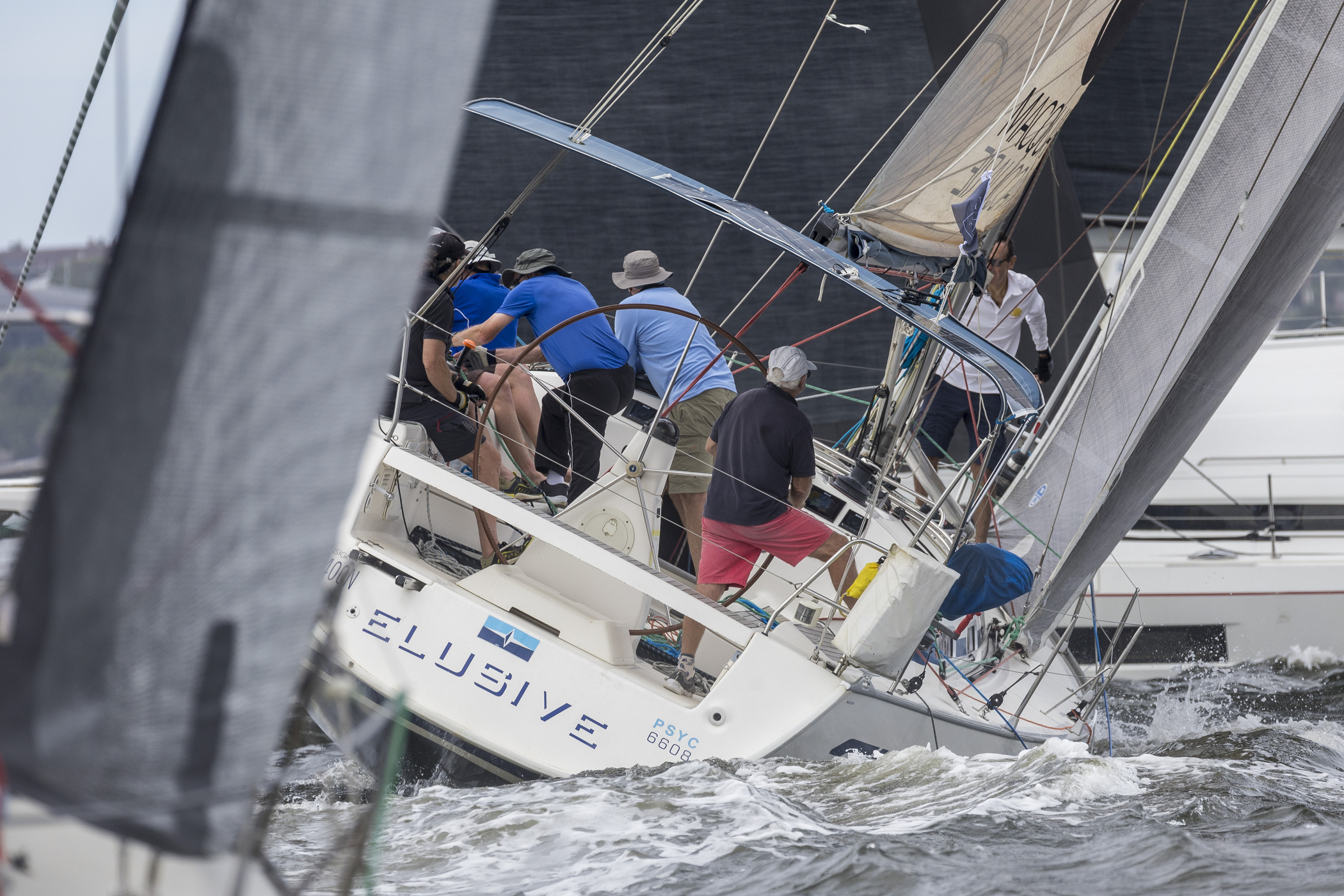 "The first race started out around 7 knots and by Race 2, we were getting gusts to 12 knots. It was really nice sailing conditions. Tomorrow we'll have to sail smart: Get a good start, start on the right side of the course, get the angles right and stay in the breeze downwind," he said.
Performance Spinnaker Divisions 1 and 2
These two divisions contested two races from start area D. Brendan McAssey's S1 made the best start to the day, claiming Race 1 in Division 1 from Peter Sorenson's Advanced Philosophy. It's no easy feat beating Sorro, the master of many classes. And that being said, it was the return of Sorro when his pair of second places trumped S1's win and fifth place. Sorro leads.
Twelve seconds decided Division 2s first race and Steve Nash/Paul Stubbs' Irukandji was the victor from Graeme Neuhaus' Crowded Haus.Race 2 and Irukandji kept her series lead from Crowded Haus when the two scored second and fourth places respectively.
"A bit unexpected to do so well, but your always hope for the best and give it your best shot. We've got a good regular crew and it was very much a team effort. It's working out well for us," Nash commented.
"It was light on for breeze in Race 1, so it was a bit easier to sail the second race. It was a short race though, so you had to get a good start, which we did. There was a bit of congestion on the line, with 32 boats, but we all got through it."
Performance Spinnaker Division 3 and Non-Spinnaker Division
The two divisions raced on course area C, in the vicinity of Taronga Zoo where the giraffes would have been able to enjoy the view.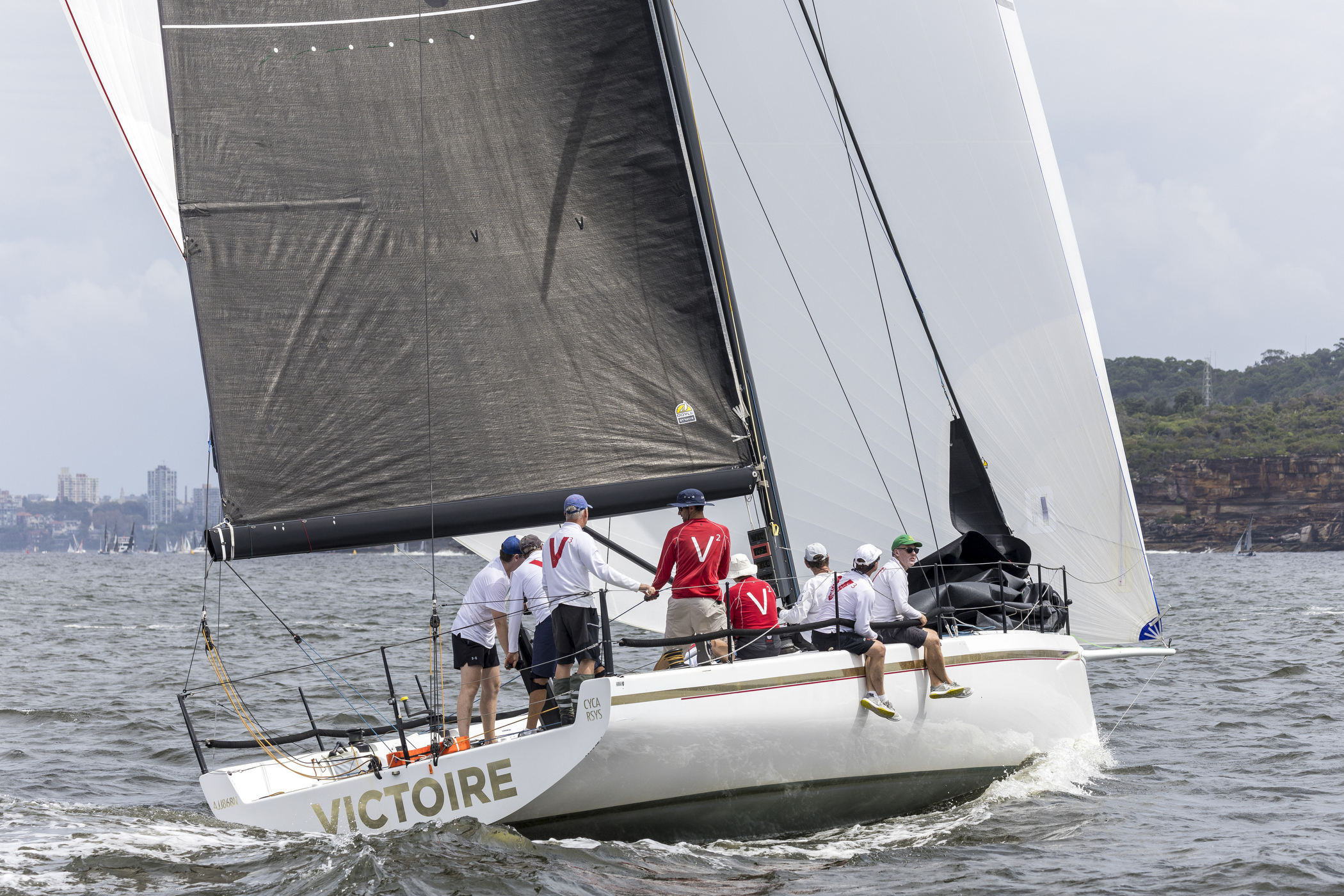 John Crawford's Innaminicka leads the Beth Abbott skippered Rapid Transit in Performance Spinnaker Division 3 by six points, following Crawford's two wins. John Vickery's Windsong is in third place going into tomorrow's final races.
Meanwhile, in Non-Spinnaker, Angus Ekberg's Sea Change has the upper hand over Larki Missiris' Molon Labe - meaning 'come and take them', which is what Missiris usually does on the race course. Sea Change is just three points ahead, so who knows what the final outcome will be tomorrow.
This afternoon and into the evening, crews were kicking back on the beach in front of the Club for a sausage sizzle and drinks and relaxing post-race music, not to mention the Fever Tree Gin Bar.
Middle Harbour Yacht Club acknowledges the support of Royal Sydney Yacht Squadron, Cruising Yacht Club of Australia, Sydney Amateur Sailing Club, Royal Australian Navy Sailing Association, Royal Prince Edward Yacht Club, Manly Yacht Club, Royal Sydney Yacht Squadron, Royal Prince Alfred Yacht Club and the Sydney Flying Squadron. Our thanks go to key sponsors: Club Marine, Robert Oatley Wines, Short Marine, Quality Marine Clothing and Telstra Business Technology Centre.
All information on the Sydney Harbour Regatta, including results at: www.shr.mhyc.com.au
By Di Pearson, MHYC media