The Sydney Harbour Regatta Prize-giving Ceremony was held tonight at Middle Harbour Yacht Club with over 120 guests attending.
Prizes were awarded to winners and placegetters in all 19 divisions along with a number of sub-divisions.
The skipper winning the lucky draw open to all entrants – a weekend away at the wheel of a luxurious Mercedes vehicle courtesy of Mercedes-Benz North Shore, heading for picturesque accommodation on the shores of Lake Macquarie - was Peter Franki (Saltshaker CYCA).
Celebrating International Women's Day on Sunday, Helly Hansen provided a sensational W Salt Flag Jacket for the best performed female skipper. The winner was Jian Lin (Min River DSC) for placing second in the largest division within the regatta – Performance Spinnaker Division 1.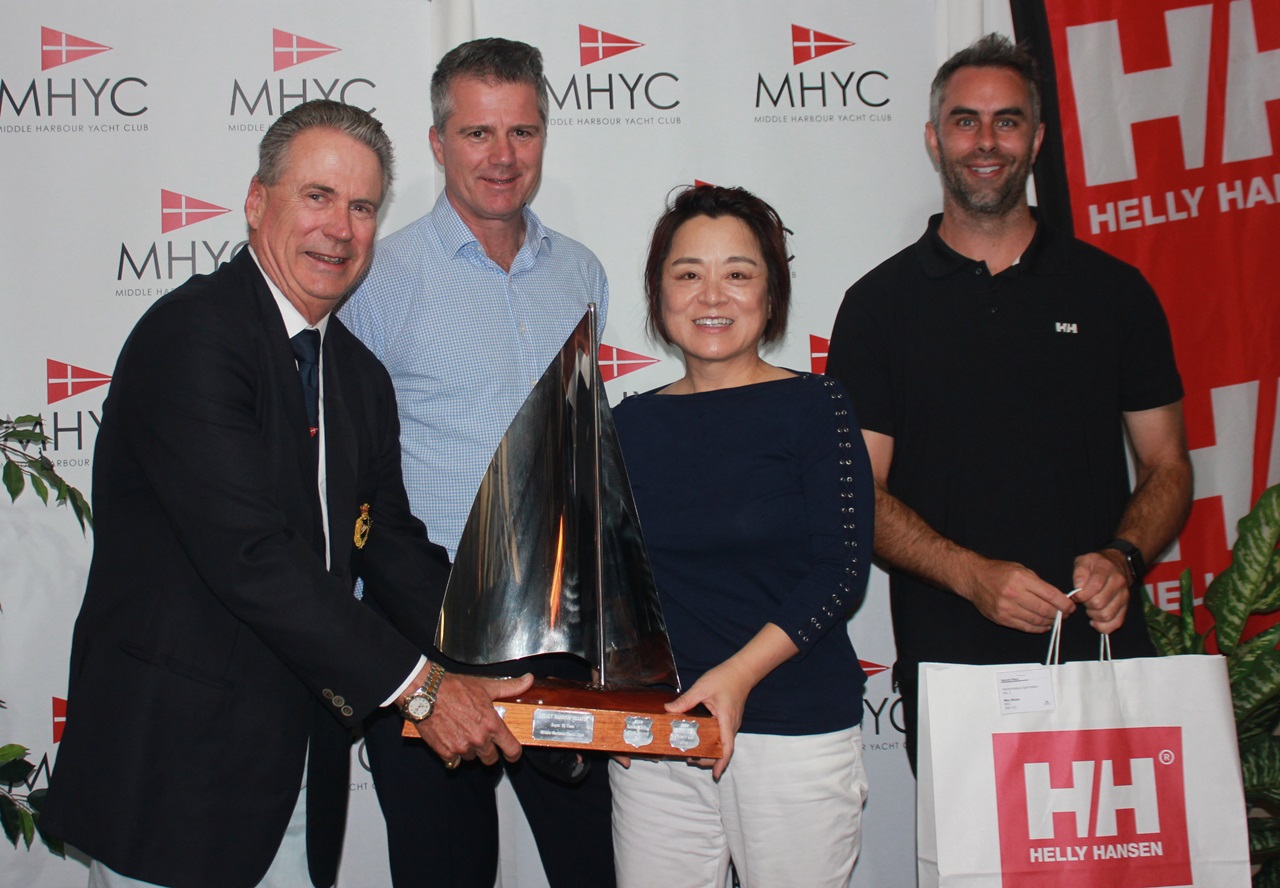 Each placegetter, in each of the eligible classes or divisions, was in the draw with a chance to win one of the Grand Prizes provided they were present or represented at the prize-giving.
Winner of the Third Place Grand Prize - Two nights' accommodation including breakfast at the Mercure Resort Hunter Valley Gardens for two (2) people and a Helly Hansen Gift Voucher – was Ian Smith (Brittania SFS) from the Historic 18 footers fleet.
Winner of the Second Place Grand Prize - Two weeks berthing and two nights' accommodation at Coral Sea Marina Resort and a Helly Hansen Gift Voucher – was Steve Hatch ("M" CYCA) who competed in the Sydney 36 division.
The First Place Grand Prize – Two return air fares Sydney-Auckland courtesy of Air New Zealand, two nights' accommodation including breakfast at the Stamford Plaza Auckland and a Helly Hansen Gift Voucher – was won by Peter Charmer (Windcharmer GFS) who claimed the trophy for Performance Spinnaker division 3.
Commodore Peter Lewis closed the evening by highlighting the cooperation provided by the supporting clubs to make the Sydney Harbour Regatta such a success – providing the competitive fleets and also the race management support. On behalf of MHYC as the regatta organiser, he thanked the 80 race management volunteers and officials from 11 Sydney clubs who enabled 81 races on 7 course areas to be conducted over 2 days for 1100 competitors sailing 182 yachts in 19 divisions.
"It has been another great regatta that could not happen without your support", said the Commodore.
For all the Sydney Harbour Regatta resulst - click here