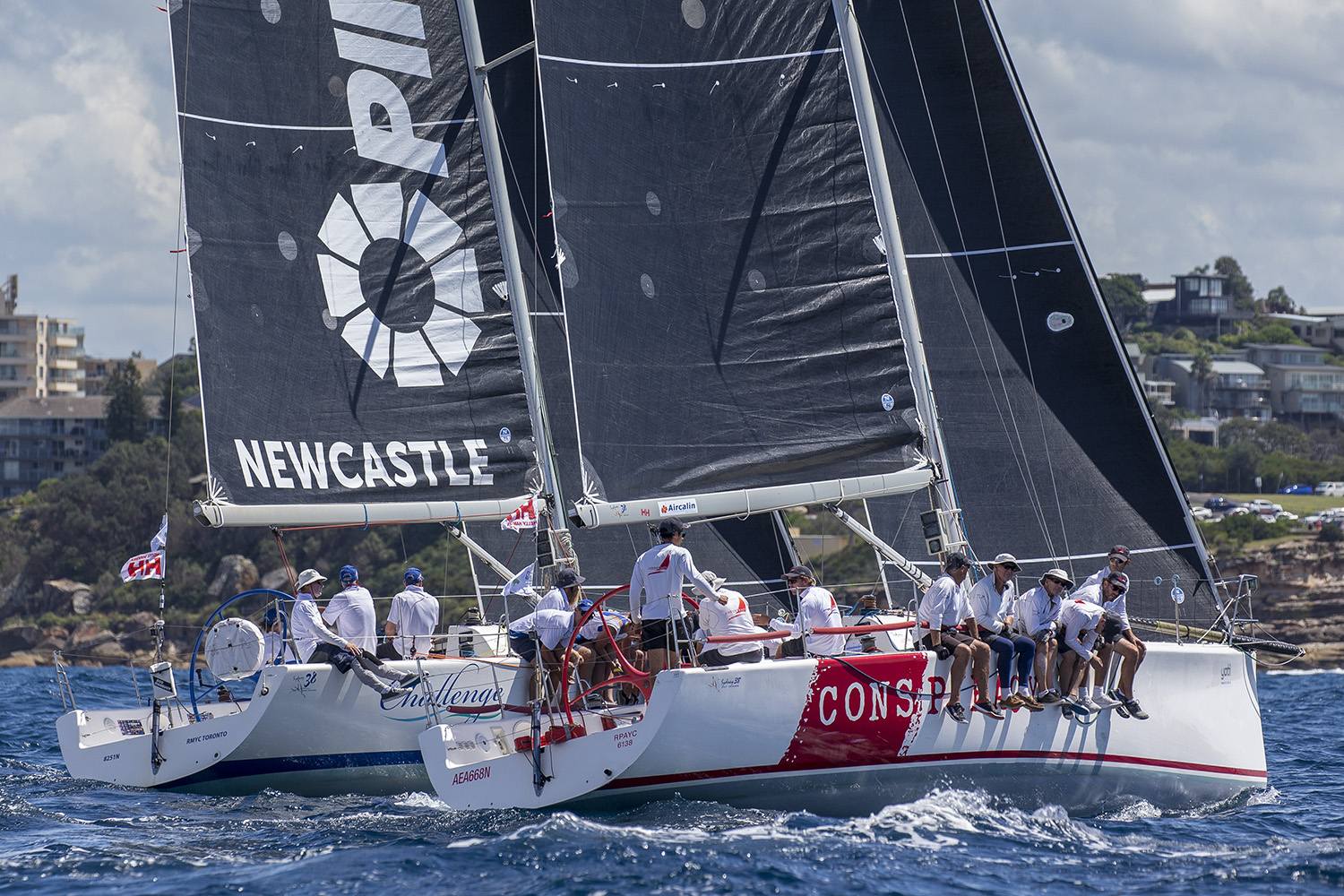 Peter Byford and David Hudson have come out the cream of the crop on Day 1 of the Yoti Sydney 38 Championship at the Sydney Harbour Regatta, hosted by Middle Harbour Yacht Club (MHYC), sailing Conspiracy to two wins from three races for an early lead this afternoon.
The reigning NSW champions and third placegetters at the 2018 Australian Championship, Byford and Hudson are making no bones about their desire to ramp it up a notch this year, despite a larger field than last time around.
However, the Pittwater pair by no means had it all their own way, they lead by one point from Alan and Tom Quick, recently crowned Farr 40 NSW champions. The CYCA father and son may have switched one-design classes, but they arrived fully cocked and loaded with The Goat, scoring a pair of third places and a win for second place overall.
Conspiracy though, also won Boat of the Day, and proudly flew that flag, co-owner, David Hudson said.
The day of racing, Hudson said, "Wasn't too bad. We had from 8-12 knots. It was good constant racing on a reasonably flat sea. It was close and competitive. We'll have to stay on our toes, as we've got The Goat on our tails. We haven't raced against them before; they did a good job today."
Hudson said they were pleased with their starts and crew performance: "It all went well. No stuff ups, no accidents, good competitive racing. And I have to say that the new people in the class acquitted themselves well."
Tom Quick agreed: "It's a great fleet of amateur and professional sailors, like the Farr 40 class."
With guru David Chapman calling the shots "and he's doing main as well," Quick said, The Goat crew went in with heads down and tails up, as some got their heads out of the Farr 40 and into the Sydney 38 – very different boats.
"It's been five years since we sailed a Sydney 38 - so it was a bit different coming back – but it was good. We're enjoying the boat. It was a nice range of wind – perfect really. We had only one problem; getting a jib up in Race 3 when we were leading. But we got around mark and got it up and still won - no other dramas.
"We chartered The Goat. We have a mix of crew; one from The Goat and some youth sailors from France, the CYCA and one from Lightspeed (the MC38), Zak Quinlan. He'll go back to them for the rest of the regatta, so today was good practice for him."
Quick added, "Seems Conspiracy is the boat to beat, but consistency is the key and will be the decider, as it always is in one-design racing. We still have six races to go."
Sailing windward/leeward courses on the Manly Circle, Conspiracy pipped Challenge (second at the NSW Championship), Greg Croak's NSW Central Coast entry, by 27 seconds in the opening race. The Goat took third place, a further 15 seconds in arears.
You could feel class newcomer Peter Sorensen's frustration, when his recent purchase 'Advanced Philosophy' (the former Phoenix, winner of the 2015, '16 and '18 Australian Championships), with Ron Jacobs calling tactics, scored OCS in Race 1. First time jitters, I'm sure, from this local skiff and yacht champion.
In Race 2, it was Conspiracy getting the gun again, this time from Phil Tomkins' Adrenalin (CYCA) and The Goat in third.
But in Race 3, The Goat was too 'Quick' for the rest, and the CYCA entry took the bullet from Richard Williams' Calibre, (also CYCA and third at the NSW Championship) by a six second split, with Conspiracy 25 seconds adrift of Calibre.
Day 1 of the Yoti 2019 Sydney 38 Australian Championship was in limbo before the midday start time, when a wafting 2-3 knots was all that could be mustered - a moderate north/easterly breeze filtered in just in time.
A General Recall started the day, as is sometimes the case in a first race on Day 1 in a high-stakes championship where competitors take the 'no prisoners' approach.
Competitors in this popular class know how to celebrate and wind down in style after a day of racing, taking in Norths Happy Hour drinks at MHYC on docking, before a dinner for all crews.
A fleet of 11 Sydney 38 One-Designs are taking part in the three-day Australian Championship, starting off this weekend's 14th running of the Sydney Harbour Regatta. It is one of the largest class events for many years, with some new owners and return players from around NSW joining the circuit regulars.
Windward/leeward racing continues on the Manly Circle tomorrow, when officials will aim to put three more races to bed.
Full results and all information: www.shr.mhyc.com.au
By Di Pearson, MHYC media
Photos by Andrea Francolini