Despite the rain, a record 226 entries will set sail in Middle Harbour Yacht Club's 12th Sydney Harbour Regatta this weekend, rivalling and outnumbering Australia's largest regattas.
Made up of 21 classes/divisions including the inaugural Sydney 38 OD International Championship; Sydney 36 Championship; state championships in the Cavalier 28, Yngling and J70 classes, Open IRC/ORCi, Farr 40, Adams 10, Etchells, Dragon, Melges 20, Melges 24, 5.5 Metre, Super 12s, Sports Boat, Super 30, Historic 18ft Skiff, PHS Spinnaker and Non-Spinnaker and Productions boats, MHYC officials are over the moon.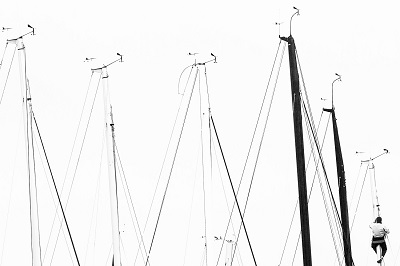 Preparing in the rain this morning - Andrea Francolini, MHYC
Entrants for NSW's largest keelboat regatta have come from New Zealand, New Caledonia and the USA, joining those from NSW, Tasmania and Victoria, Including Hong Kong businessman Karl Kwok's TP52 Beau Geste on the IRC course joining Phil Turner's RP66, Alive and 2015 Rolex Sydney Hobart winner Balance, owned by Paul Clitheroe.
Racing is due to get underway in all classes from 12pm, both on the Harbour and just outside for IRC/ORCi, Farr 40, Sydney 38 and Sydney 36 classes.
Principal Race Officer, Denis Thompson gave his thoughts on how the day could pan out. "He and I are not on speaking terms today," Thompson said, pointing skywards.
"The forecast has the weather all over the place, but it's settling down. I think we'll get 15-18 from the south, with passing showers and rain easing during the afternoon.
"All divisions will be sailing in their designated areas, but the race officers are out checking the offshore courses where the One Design (Manly Circle) and IRC boats (Macquarie Circle) will be sailing as it could be quite bumpy offshore. Safety is of paramount importance and if necessary, we'll bring those boats to a Harbour course," he said.
Middle Harbour Yacht Club offers breakfast each morning of the regatta, with a beach grill and sausage sizzle on the beach to follow racing each day.
The prize giving will again be held at MHYC on Monday evening (6 March) allowing all placegetters a chance to enjoy the evening with their crews.
MHYC thanks the following clubs for their ongoing support: the Cruising Yacht Club of Australia, Royal Sydney Yacht Squadron, Manly Yacht Club, RANSA, Royal Prince Alfred Yacht Club, Royal Prince Edward Yacht Club, Sydney Amateur Sailing Club and the Sydney Flying Squadron.
Thanks go to sponsors: Abell Point Marina, Helly Hansen, Sydney City Marine, Robert Oatley Vineyards and Air New Zealand for their support.
Full results and all information at: www.shr.mhyc.com.au
By Di Pearson, MHYC media