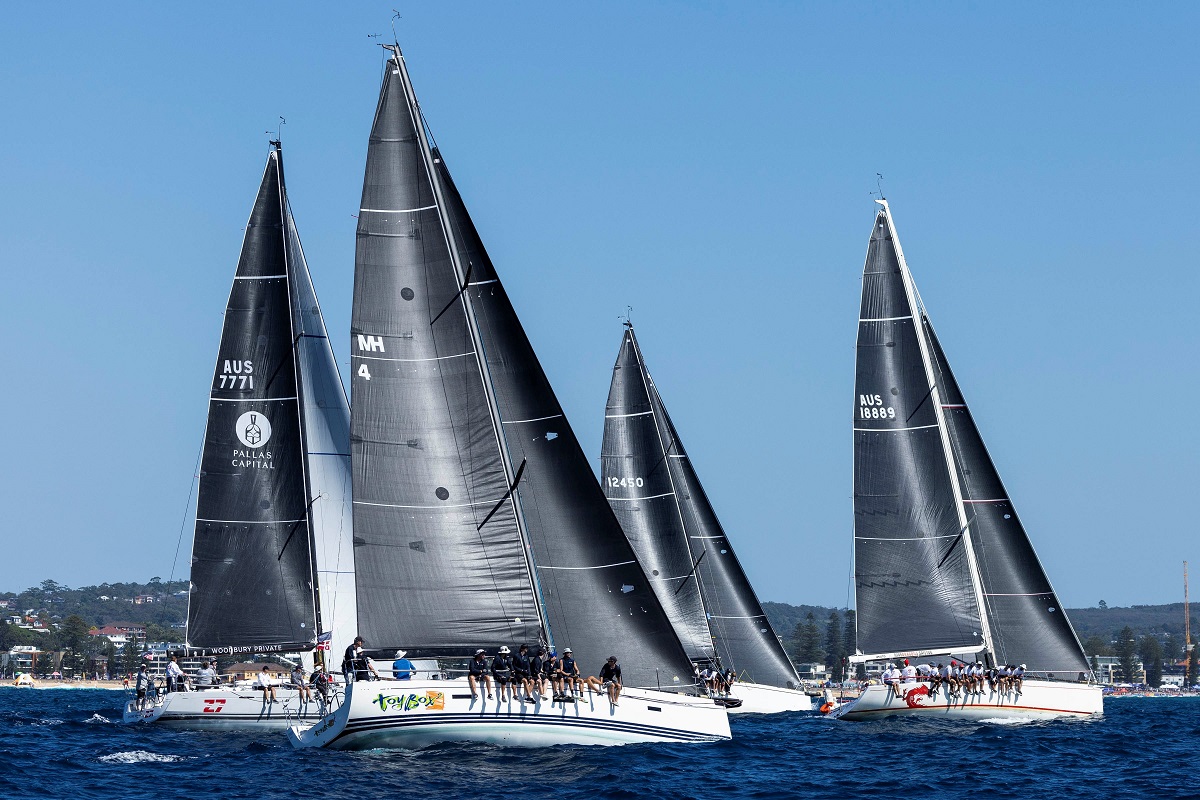 An ideal autumn day on Sydney Harbour and offshore decided the winners and new Australian and NSW champions in three classes at Middle Harbour Yacht Club's 2023 Nautilus Marine Insurance Sydney Harbour Regatta today.
Some of yesterday's leaders extended today to claim their respective overall wins, while others came from behind, finding the lovely north- easterly wind more to their liking.
Open Classes
Mark Griffith did his best work yesterday in light airs, claiming all three windward/leeward races with the DK46, LCE Old School Racing. He did enough today, with 2-2-5 results to win Division 1 of the Open Class from another DK46, Nine Dragons, owned by Robert Cox. Keiran Mulcahy's King 40, Soozal, placed third. The trio are regular top three players.
"Saturday we had a really good day and won by some fairly big margins. Macca (Steve McConaghy) did great job on tactics and we had good speed," Griffith shared.
"Today we had a good ding-dong battle with Nine Dragons. It wasn't so easy, but we are pretty happy to come away with two second places today. We lost our bowman over the side in third race, but the crew did an excellent job of retrieval, had him back on board very quickly. We stayed consistent and were able to just hang in there," Griffith ended.
Division 2
Serial winner, Stormaway (Colin Gunn and Jack Stening), won Division 2. The Sydney 36 scored four wins and a pair of second places, outsailing Peter Farrugia's Bullwinkle and Neil Padden's Wailea. The latter two finished on equal points.
Adams 10 win goes to Artemis
With MHYC celebrating International Women's day at the regatta today, it seemed appropriate that club member, Tracy Richardson, came from behind to win the division with Artemis. She did so by scoring three straight wins on the windward/leeward courses.
"Best day ever," a thrilled Richardson said. "Our manoeuvres and crew work were incredible and the conditions suited us," she said of the building nor' easter on a perfect sunny day, when a 12 knot breeze worked its way up to 18 knots on the Sydney Harbour course.
"We got the boat going today. We had great tactics downwind and great competition with Another Dilemma especially. It's been such close racing. We couldn't even tell if we'd won the final race it was that close. Good one design racing."
No Friends (Geoffrey Charters) and Another Dilemma (Jim Vaughan) placed second and third overall respectively and finished on equal points., four behind Artemis.
Performance Class Spinnaker
Craig Douglas' Beneteau First 47.7, Popeye, revelled in today's conditions and took out Division 1 from Eric Frank's Bliss and Mark Gorbatov's Blink.
"We did everything right," Douglas asserted. "We had a strong team on board, the hardcore Popeye sailing team. That's the reason for our success.
"On Saturday, moving a 13 ton boat in 5 knots was not easy, but the crew work in that light air was exceptional. Today was our sort of wind."
Division 2
Graeme Dunlop's Ellipse finished at the top of Division 2, his Jeanneau Sun Odyssey 409 outdid Robert Carr's regular, Rumba, which couldn't quite dance into the top spot. Stella Polaris took third.
Division 3
Michael Doherty's Sequel claimed the Division 3 spoils from Dean Dransfield's Escape.
The Performance Spinnaker classes were scored under ORC and PHS. Strong fleet numbers provided the most entries and colour at the regatta.
Farr 40 – S1 new NSW champion
Brendan McAssey and crew sailed an exemplary series on SI to be named the Farr 40 NSW champions. S1 won five of the six windward/leeward races and placed second in the other. Gordon Ketelbey's 1-2-2 lifted Zen up to second overall, Brent Lawson's Blue Tack settling for third. All are from the host club.
"Our crew work was the difference. We've been sailing with the same guys for a while and everyone was on their game this weekend," McAssey said of the crew who were with him at the 2022 Australian Yachting Championships.
"Ian McKillop, our tactician, was amazing. He made all the right calls. We're excited to be back sailing again on a fantastic Sydney weekend and at a great regatta."
Sydney 38 – Conspiracy defends her title successfully
They did not lead coming into the day, but that is fairly typical of Peter Byford and David Hudson, who have retained their Sydney 38 One-Design NSW Championship. The scores were exceptionally close yesterday, with Peter Sorensen's Advanced Philosophy leading the charge. But as the Conspiracy crew regularly does, they saved the best for last, three straight wins today trumping the rest.
Sorro, after swearing blind yesterday that he would take the title from them this time, finished second overall, three points behind. Greg Croak, who brings Challenge down from Toronto for major events, took third place.
J/99 Inaugural Championship
Jules Hall's Disko Trooper (CYCA) was too good for the rest. Hall won five of the six windward/leeward races to claim the inaugural J/99 crown. Ian Smith's Jupiter and Shane Connolly's Rum Rebellion maintained their respective second and third places of yesterday.
In other results, Sam Haynes was too classy for the rest, winning all six races in the J/70 division. The Sydney vet is on a winning streak on the Harbour and offshore (he won the 2022 Rolex Sydney Hobart).
In the Fareast 28R division, Ming the Merciless was just that. Her syndicate of five owners, Jono, Neil, Chris, John and Jack, won five of six races for victory over Scott Lawson's Firecracker and Wildling 3, sailed by the Wildling syndicate.
MHYC thanks naming rights sponsor Nautilus Marine Insurance and supporting sponsor Quality Marine Clothing.
The Club also thanks Royal Sydney Yacht Squadron, Cruising Yacht Club of Australia, Sydney Amateur Sailing Club, Manly Yacht Club, Royal Australian Navy Sailing Association, Royal Prince Edward Yacht Club, Royal Prince Alfred Yacht Club and the Sydney Flying Squadron and their volunteer force, for their valuable support at the 18th running of the Sydney Harbour Regatta.
For all divisions' full results in all divisions, photos and more from the Nautilus Marine Insurance Sydney Harbour Regatta, please visit: https://www.shr.mhyc.com.au/
Di Pearson/MHYC media